Nina Music is an award-winning children's musician who writes songs that are appreciated by the young person in all of us. Her most recent CD, "M-U-S-I-C", is a 2013 Winner of a Parents' Choice Silver Honor Award. (Click here for the CD review.)
Nina is also an engaging and polished stage performer who loves to get the kids up and moving. She weaves sign language into live performances to add a visual, interactive element to the experience and further encourage participation with her young audiences.
---

Nina showcases her ear for layeri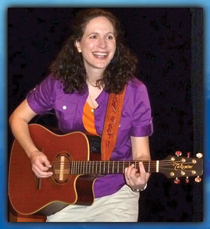 ng instruments and harmonies in this self-produced album. The resulting songs are more sophisticated, yet are still completely accessible to young listeners. The tunes are infused with hints of inspiration from her musical past (Allman Brothers, ZZ Top, Village People), while including the hitherto unexpressed influences from hip-hop and funk (Kanye West).

In 2008, she released her critically acclaimed debut children's album "Shake, Shake, Shake". In addition to Nina-penned tunes, this album also includes songs co-written with many of her family members. The hit "Pickle," which not only continues to receive lots of radio play, gets the "Play It AGAIN!" chant from kids while driving in the car with their parents.

Nina pulled from her experience as an educator and created a musical curriculum called "Sing, Sign, Dance" for pre-school age children. "Sing, Sign, Dance" is a very unique program, and she presents it in preschools, libraries, theatres and elementary schools. The title refers to the different elements featured in the program, with a special emphasis on the sign language aspect. In addition to getting the kids involved, sign language is great for demonstrating diversity, inclusion and helping kids develop their fine and gross motor skills.

Nina's musical journey started in Lake Harmony, Pennsylvania. She taught herself how to play guitar at just 13 years of age after being heavily influenced by her big brother Eric's guitar playing—and fighting for her little bit of the spotlight as the youngest of eight children in an often loud, funny and musically talented family. Currently, she resides in Ottawa, Canada and travels all around, to bring musical joy to children everywhere.
"Drawing on her teaching background, and her expert musicianship, Nina has developed a preschool program called "Cognitive and Physical Development through Music." M-U-S-I-C, her second children's music album, is based on the program."
- Lahri Bond, Parents' Choice
"M-U-S-I-C", released in October 2013, is Nina's second children's music album. The title track is a musical descendant of the Village People's "YMCA," complete with body spelling. In this tune, kids are asked how to make music with different parts of their bodies, i.e. whistling, clapping, and snapping, with the intention that they clap or whistle along. In fact, almost all of the songs have a participatory or educational element to them.